To reach new global markets, it is critical to traduzca su sitio web (updated link) to communicate with new customers in their preferred languages. Website translation alone will attract customers, but you'll need both translation and localization to create genuine connections that lead al conversions. 
What is the Difference Between Translation and Localization?
People often use the terms "translation" and "localization" interchangeably. Both techniques help you communicate your website content, product, business, or services to potential clients. Sin saber cómo "hablar" el idioma de su público nuevo, tanto literal como figurativamente, ¿cómo puede comunicarse de una forma exitosa?
While translation and localization offer similar functionalities, there are essential differences between them. Understanding what distinguishes these terms, processes, and services, helps you extend the reach of your website more efficiently and profitably. To understand how website translation and localization services differ, you need to define the two concepts. 
The concept of traducción de sitios web is very straightforward. Website translation is the process of adapting your website content from its original language into other languages, often word-for-word, to make it accessible to global customers. Translated content mirrors the style and tone of source content but doesn't consider the context.
[Button: Learn About MotionPoint's Website Translation Services] 
Website localization services go beyond a word-for-word translation experience. Implica la adaptación del contenido del sitio web según la cultura, el idioma y el flujo para ofrecer a los usuarios la experiencia más valiosa y relevante. La localización tiene en cuenta los dialectos del idioma utilizados en la región o el país al que se intenta alcanzar y adapta todos los elementos del contenido del sitio web según el consumo local o regional. The localization method modifies the language and website elements to appeal to the linguistic and cultural preferences of the target customers.
Existen diversos elementos de la localización de sitios web que son importantes para tener en cuenta al decidir cómo desarrollar un sitio web en varios idiomas: 
Language and regionalism

allow content to speak closely to the target audience. Por ejemplo, supongamos que determinadas frases o conceptos son específicos para el país o la región en la que quiere operar. En ese caso, es importante demostrar a los clientes que comprende quiénes son y por qué deberían elegir su empresa.

 

Ease of navigation

means users can immediately find the website content in their language and begin interacting with the website seamlessly.

 

Elementos culturales

enhance the user experience and create a feeling of closeness with the target audience. Algunos ejemplos de contenido cultural incluyen:

 

Colores, formas, tamaños y estilos

 

Imágenes, íconos y gráficos

 

Códigos sociales, como humor, etiqueta y símbolos

 

Valores sociales, relaciones y creencias

 

Cuestiones transaccionales

include functional content that customers rely on to navigate a website, understand products and services, and ultimately, do business on a website, including:

 

Formatos de fecha y hora, números de teléfono e información de contacto

 

Pesos, medidas y referencias geográficas

 

Idioma y contenido lingüístico, descripciones de productos y reseñas

Communication elements

that build trust and help the customer understand that they are valued:

 

Información sobre el servicio al cliente local

 

Información legal

 
While translation is one aspect of localization, localizing website content is a fundamental next step after translation. Therefore, the two concepts are important for multilingual website development, both as standalone concepts y together.
What is Transcreation?
Transcreación is a creative way of translating a message from one language to another. It keeps the same tone, style, and context, and makes sure the original meaning is not lost. The goal of transcreation is to recreate the message in a way that resonates with the target audience and maintains cultural relevance. 
Transcreation is useful in advertising, marketing, and branding to adapt campaigns and slogans to different cultures and languages. Unlike traditional translation, transcreation allows more freedom in the creative process by using cultural research and adaptation to ensure that it is appropriate and relevant.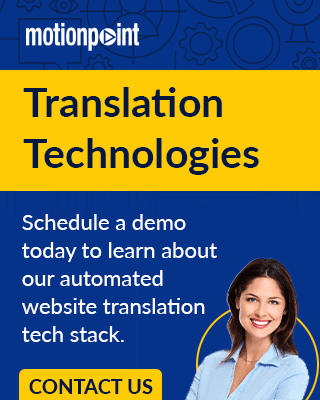 Why is Website Translation Important?
When travelling to another country, it's helpful to know simple phrases in the local language such as "please," "thank you," and "how much". But if you weren't fluent in the language, you probably became frustrated by your inability to communicate in other situations.
Your target market may face a similar challenge when interacting with your business online. Necesitan un sitio web que "hable en su idioma" para que puedan entender lo que usted está diciendo. No hay tiempo para sentirse frustrado o confundido. Si se sienten incómodos, a menudo abandonarán su sitio antes de hacer la conversión.  
Websites presented in local languages yield better market responses than those that aren't. De acuerdo con Common Sense Advisory, nearly 73% of customers prefer to purchase a product or service from a site that provides information in their own language, and 56% of consumers said the ability to obtain information in their own language is more important than price.
So, why should you localize your website? In a nutshell, while translation is vital, it will only get you so far. 
Sus clientes globales no pueden sufrir una fricción al visitar su sitio web. Si tienen problemas, lo abandonarán.
You can use machine translation software like Google Translate to translate your website, but it is best to use human review when possible. People are still more effective at crafting and editing translations for accuracy and nuance than computer assisted translation systems.
Machine translation software like Google Translate has its advantages. It's easy to use and can translate less critical website content at a lower cost. But machine translation software does not have interpretative or cultural knowledge of language. It can translate content word for word but will not be able to customize for culture.  
Google Translate also doesn't create searchable, indexable versions of those translated pages, which is important from an SEO standpoint. 
Localization Increases Engagement
Website localization goes beyond the word-for-word linguistic conversion of conventional translation and instead uses words and phrases that resonate within specific markets. 
Las traducciones neutrales son muy efectivas, pero la localización es mucho más persuasiva para muchos clientes que hablan varios idiomas. 
Por ejemplo, piense en las diferencias entre las palabras "trousers" y "slacks" (pantalones, en inglés). El significado de los términos es idéntico, pero uno se usa más en el Reino Unido que en los Estados Unidos. 
But website localization can go beyond word choice. Los comerciantes más astutos a menudo personalizan sus sitios web en varios idiomas para destacar los feriados, las celebraciones o las costumbres locales. Esto ilustra la fluidez en la cultura del mercado local, lo que genera confianza del cliente rápidamente. 
Otros ejemplos de localización incluyen crear promociones especiales para mercados específicos, o mensajes exclusivos que generan confianza para establecer la credibilidad en los mercados totalmente nuevos. 
In the early days of serving a multilingual market, it was not uncommon for a company to be greeted with local skepticism. Con frecuencia, los clientes locales se preguntan cuán comprometida está una compañía con el mercado y sus necesidades. Cuando las marcas usan contenido localizado, no parecen ser oportunistas, parecen auténticas. 
Localization Considers Format
Website translation technology does not consider the nuances of your chosen language, your website, app, or marketing content may present differently. Website localization includes things like layout adjustment, reading technique, and word count. 
For instance, certain romance languages like French and Spanish need about 30% more words than English to get the same message across. Conversely, Finnish actually requires 30–40% fewer words. Website translation only deals with the language, but localization makes sure copy looks right.
Translation vs. Localization: What's Best for Your Website?
At this point you're probably asking yourself: should I invest in translation or localization for my website? Both options differ on a strategic level, so the answer may not be black and white. Una traducción simple podría ser adecuada para algún tipo de contenido en mercados específicos. La localización se requiere con mayor frecuencia para adaptar contenido de marketing creativo y altamente emotivo para que cree una identificación clara en las distintas regiones. 
Websites usually contain several content types, from marketing copy to legal and technical information and user-generated forum content. Por motivos de eficiencia y costo, piense en los tipos de contenido que requieren localización y dónde simplemente puede utilizar la traducción. Website translation and localization help you connect with your target audience and reach them on a more personal level.
La traducción sola puede ser útil para llegar a muchas personas que hablan el mismo idioma, incluso si originalmente provienen de distintos países. La traducción amplia permite que los lectores entiendan el mensaje, sin importar su origen. Este fenómeno ocurre con frecuencia en los Estados Unidos con personas que hablan el mismo idioma, como el español.
En EE. UU. viven hispanohablantes de muchas partes del mundo, y abarcan diversos conjuntos de matices culturales, frases y dialectos. En este caso, una traducción más amplia y bien redactada evitará intencionalmente el uso de frases o palabras regionales de un país específico y reconocerá el mercado hispano más amplio en el mercado estadounidense localizado. 
La traducción sola es una opción menos costosa. No es tan importante que algunas páginas web o tareas de traducción sean traducidas por profesionales. MotionPoint puede usar la traducción automática para una página y traducción profesional para otras páginas más importantes.
La localización crea una mayor cohesión, pero es más costosa. Localization also requires content verbiage translation upkeep and considers web design as well. Eso puede incluir el cambio de gráficos o el desarrollo de páginas web totalmente nuevas, dependiendo del idioma objetivo y las diferencias culturales con el sitio web original. 
[Button: Get Started with Translating Your Website Today] 
When Do You Need Website Localization?
Localization would benefit you most if: 
You offer a digital service or product that you want to expand into new markets

 

Your product often requires updates that need to be shared in different languages quickly and efficiently

 

Your target audience's language requires diverse formatting

 

You want to cater equally to all your customers, domestic and international

 

You have a dedicated customer call center in multiple languages

 

Laws and regulations require you to translate content

 

You have a low barrier of entry to expand into international markets

 
Ejemplos de traducción y localización de sitios web
MotionPoint presta atención a las necesidades de las empresas y puede adaptar las traducciones o localizaciones del sitio web (o, con mayor frecuencia, combinar ambas). Aquí le mostramos diferentes casos prácticos que destacan la forma en que las necesidades de una compañía pueden determinar cómo un solo sitio web puede convertirse en sitios web en varios idiomas sólidos para llegar a los clientes y ayudar a las empresas a crecer. 
MotionPoint Success Stories
Localizing for Manufacturers
Master Lock, a leading U.S. manufacturer of retail and commercial security and safety products, needed both website translation and localization when they began expanding globally. Los sitios web localizados ofrecen un verdadero valor estratégico para Master Lock. Los distribuidores y equipos de venta utilizan el sitio web de Master Lock para reunir información de productos para clientes regionales, y los clientes también pueden tener acceso a toda la información sobre productos y servicios de Master Lock en línea. Además, los sitios web de Master Lock cambian con regularidad, según las actualizaciones frecuentes cuando se lanza un nuevo producto o segmento, por eso las traducciones precisas son fundamentales para la empresa. Hasta la fecha, Master Lock tiene sitios web traducidos y localizados en chino simplificado, holandés, francés, alemán, italiano, japonés, portugués y español.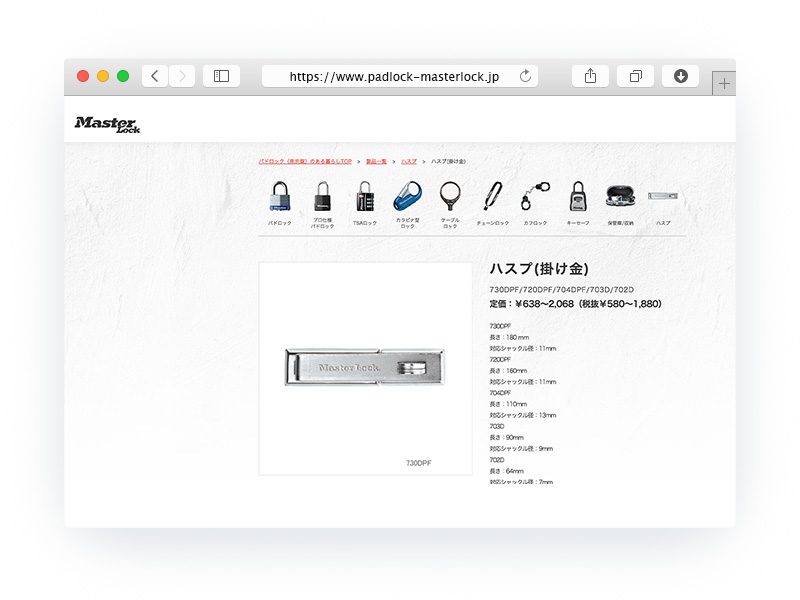 Why Banks Need Website Translation
Rio Bank is a community bank with branches throughout the heart of Southern Texas, many of them near the Mexican border. Sus operaciones crecían, pero Rio Bank notó que no estaba recibiendo comentarios de clientes que son importantes para el marketing y el servicio al cliente. Cuando se creaba una encuesta para clientes en español y los comentarios aumentaban drásticamente, Rio Bank se dio cuenta de que necesitaba una mejor comunicación con sus clientes hispanohablantes. Por eso Rio Bank le encargó a MotionPoint traducir su sitio web y crear una experiencia integral en dos idiomas para todos los clientes. La traducción de su sitio web logró una mayor satisfacción del cliente al instante, donde más del 90 % de sus clientes hablan en español. 
[Button: Help Your Business Grow Through Website Translation]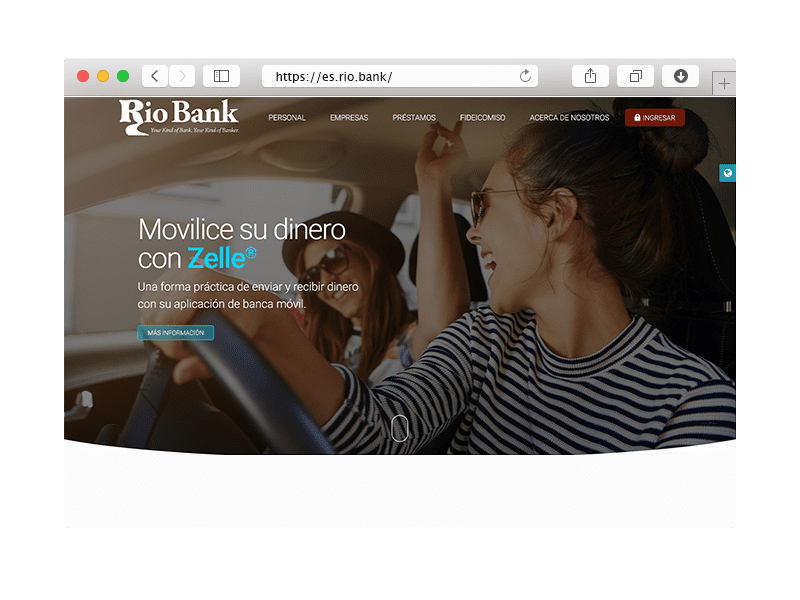 La solución que usted necesita está a su alcance
To translate and adapt your company website for different markets, look for solutions that offer accurate translations and engaging localizations. El éxito global depende de la forma en que se comunica en los idiomas locales de sus clientes con autenticidad. If you ignore that difference, you'll miss out on effective ways to optimizar your web content for multilingual customers.
MotionPoint comprende que publicar una localización relevante para el mercado en sitios web en varios idiomas es más difícil de lo que parece. It requires powerful website translation technology to customize website code to present the appropriate localized content to the right customers. Exige tecnologías de administración de traducciones que puedan con facilidad publicar, registrar y actualizar el contenido personalizado.  
It also requires world-class translators who are fluent in languages, cultures, and customs. MotionPoint helps your business find the solutions you need for anywhere you want your business to be in the world. 
Última actualización: 19 de abril de 2023